Live music in Playa Blanca Lanzarote
Nothing says idyllic sun holiday like a little live entertainment - we have curated our favourite live music spots to allow you to uncover a Playa Blanca nightlife tailored to you.
Barney's Bar is the perfect spot to enjoy amazing live entertainment with family or friends. Barneys is has some of the live music on the Playa Blanca nightlife scenr and there is a fantastic atmosphere with lots of musical talent from Barney the owner to lots of visiting musicians on a nightly basis.. You'll find the owner and host on the stage delivering great covers with his band, great for those who love to dance or just want to sit back and take the Playa Blanca nightlife in.
Facebook: https://www.facebook.com/barneyslanzarote/
Location: https://goo.gl/maps/o6TraiqGvWM2ZS4u6
Tel: +34 647 81 17 17
Irish Anvil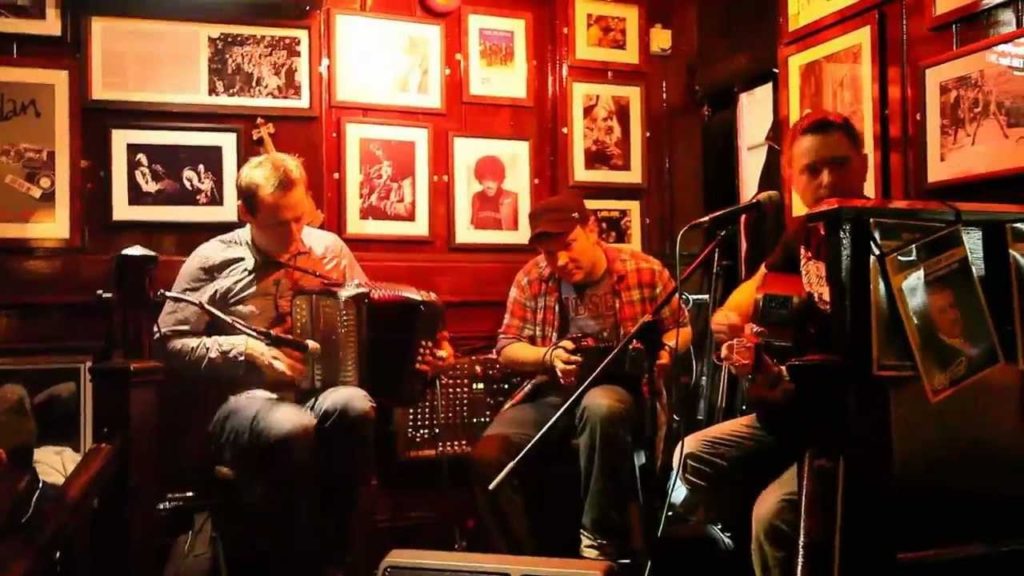 If you're looking for the best of Playa Blanca nightlife and live music is your thing, the Irish Anvil is sure to deliver.
Open from morning to night, The Irish Anvil is an Irish lounge and bar with a cozy atmosphere and extensive food and drinks menu.
Best of all they serve quality Irish stout, show live sport and deliver some of the best live music around. Live music includes a whole host of genres ranging from traditional Irish music to folk, pop, and country. It is probably the most comprehensive daily sports line up. A very popular establishment on the Playa Blanca nightlife scene.
Website: https://irishanvilbar.com/
Facebook: https://www.facebook.com/irish.anvil
Location: https://goo.gl/maps/68UWwBtwdE3T9PR29
Tel: 928 51 72 72
O'Connor's Irish Pub is a popular bar and restaurant located just beside the church in central Playa Blanca a cracking spot to enjoy the Playa Blanca nightlife. Husband and wife team Roddy and Laura have hit the Playa Blanca nightlife scene with a very popular and friendly pub. Roddy is very popular and well known local musician originally from Ireland and he regularly invites other local musical talent to enjoy him on stage for a mix of trad and modern.
The music sessions in O' Connors Irish bar are quickly becoming the talk of the Playa Blanca nightlife in a fantastic atmosphere.


The pub offers a range of food and drink options to enjoy including traditional Irish dishes, such as Irish stew and fish and chips, breakfast is also served daily and we can highly recommend the traditional Irish breakfast especially after an evening enjoying some of the best of the Playa Blanca nightlife
The Harp
At The Harp you will be amazed by live music, drinks, and food while overlooking the sea. The place is a great place to relax and enjoy the Playa Blanca nightlife for evening and nightly music. There are many Irish drinks available at this bar, including Guinness, as well as beers, wines, and cocktails.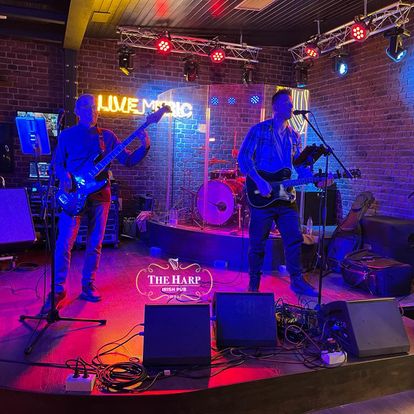 A fun and friendly place to relax and socialize, it is a popular spot for both tourists and locals.
Facebook: https://www.facebook.com/harpbar.lanzarote/
Location: https://goo.gl/maps/yifTZ5KPi5CnZYbF7
Tel: +34 928 34 96 21
Bikers Beach Club
As the name suggests, Bikers Beach Club caters to motorcycle enthusiasts, but it's also a welcoming spot for anyone who enjoys live music and drinks. The menu includes a variety of drinks, including beer, wine, and cocktails as well as a range of dishes, such as burgers, salads, and seafood.
The bar has a friendly and relaxed atmosphere, with outdoor seating that overlooks the beach.
Facebook: https://www.facebook.com/BikersBeachClub/
Location: https://goo.gl/maps/4ju5JC1DDaGfzLDP9
Tel: +34 928 51 79 37
Flagship Irish Bar
In Marina Rubicon, The Flagship Irish Bar is an excellent place to enjoy live music and drinks with friends. Known for its Irish theme, the bar serves a variety of Irish drinks, such as Guinness and Irish whiskey.
The bar has a cozy and friendly atmosphere, making it a popular spot for locals and tourists alike.
Facebook: https://www.facebook.com/yvesyjatoluque/
Location: https://goo.gl/maps/BmWU2scjMXeYaHdA6
Tel: +34 928 90 07 71
Old Mill Irish Bar
Overlooking the seafront it is
a famous Irish bar located in Playa Blanca. The bar is designed with an old-fashioned mill-style décor, which gives it a unique and cozy atmosphere. The Old Mill features live music 7 days a week and karaoke nights.
The bar serves a variety of drinks, including Guinness, Irish whiskies, and cocktails, as well as traditional Irish pub food, such as fish and chips and shepherd's pie.
Facebook: https://www.facebook.com/theoldmillplayablanca/
Location: https://goo.gl/maps/UsxTzfFAwDbMDHdR6
Tel: +34 928 94 47 89
Las Casitas Bar Playa Blanca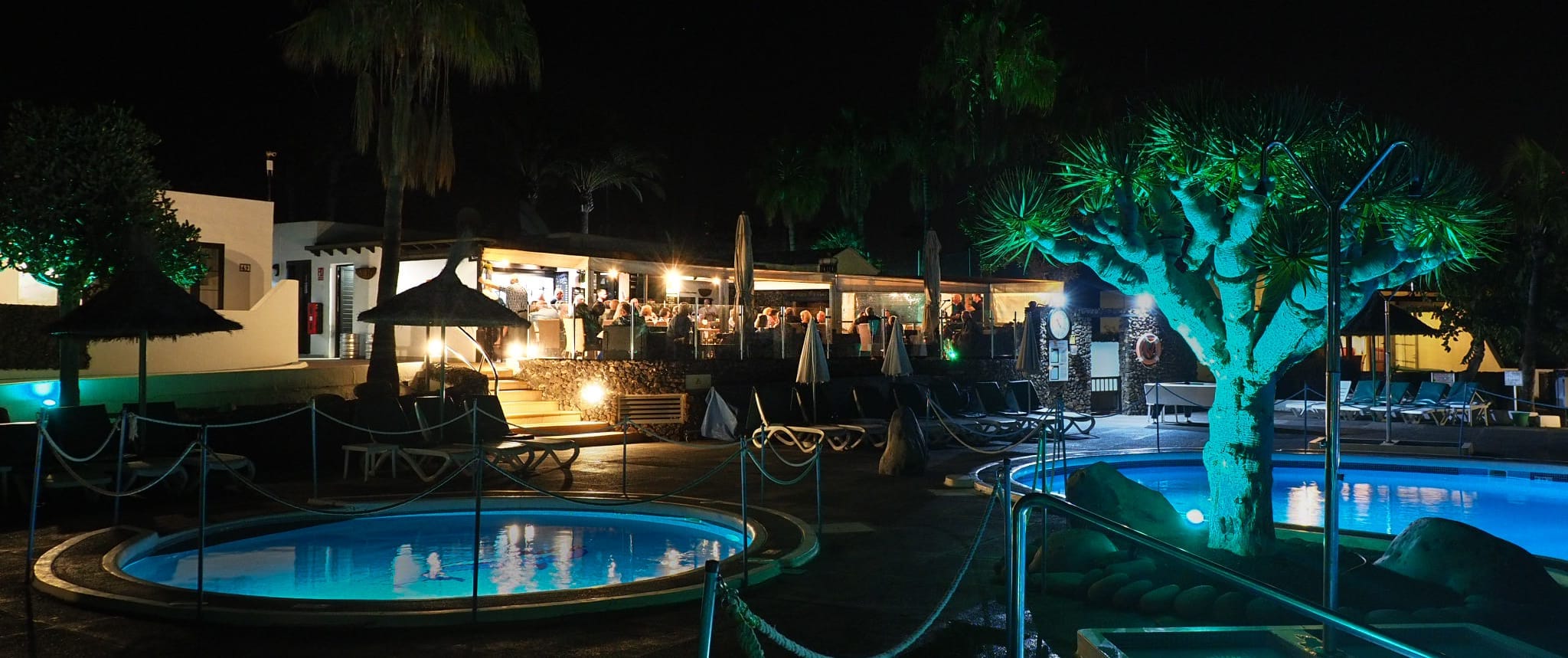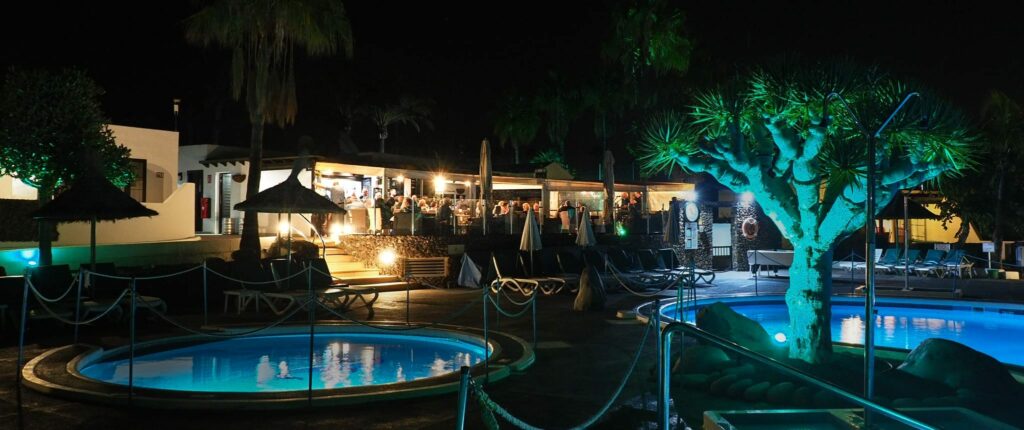 Las Casitas Bar and Restaurant is a favourite with the local expats and tourists alike Las Casitas is a gem of poolside bar that does nightly entertainment, great food and cocktails. The inviting poolside atmosphere and the warm welcome from Craig and Paul make this worth a visit. They regularly host events such as weekly bingo, quizzes, BBQ nights along with the nightly entertainment which can be anything from lively pop music to trad sessions. Happy hour is great fun which runs from 4pm -7pm. The daily specials are popular with the Sunday roast regularly selling out.
Facebook: https://www.facebook.com/lascasitasbarplayablanca/
Tel: +34 711 05 29 20
---
Just a short walk from our very own Villa Vista Rey, Baily's Bar is set within the Jardin del Sol hotel Complex.
Open to the public, Baily's is a wonderful poolside bar, specialising in cocktails, sangria, smoothies and offers a casual food menu, including tapas options. Happy hour runs from 5pm-7pm in winter and 4pm to 6om
Live music daily from 8 pm – relaxed and welcoming ambiance perfect for families and couples. Definitely a one-stop-shop for a wholesome evening of entertainment.
Facebook: https://www.facebook.com/BailyBarPlayaBlanca/
Location: https://goo.gl/maps/PLDRmxBb9xnfvfzM7
Best Places to go dancing in Playa Blanca Lanzarote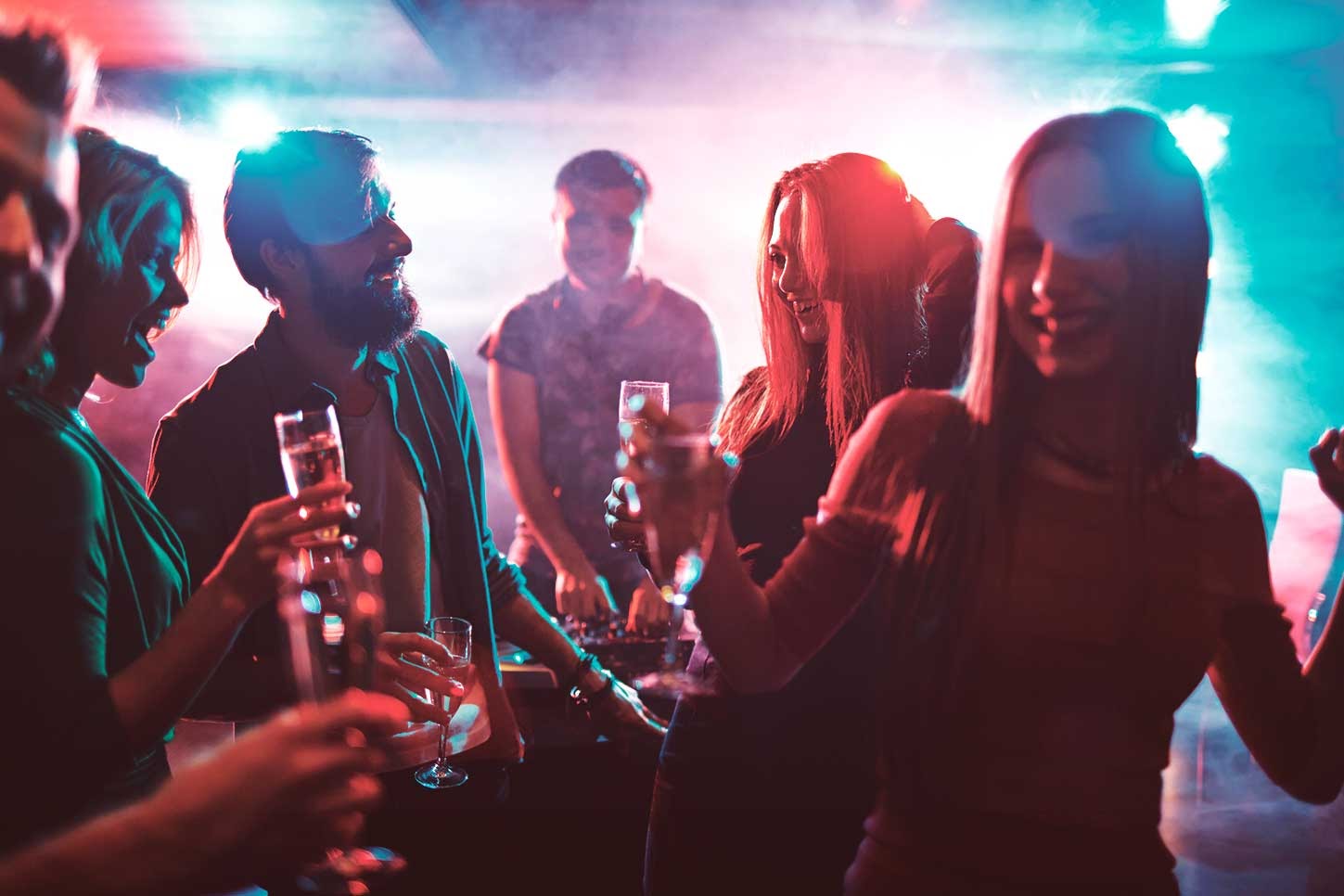 Playa Blanca's Nightlife is whatever you make it – from low-key live entertainment to more upbeat bars and music venues, if you're looking for the clubbing scene Puerto Del Carmen is a more suitable option – we've rounded up the top spots to dance the night away.
Wax Sports Bar & Karaoke
This hotspot is set within the Centro Commercial Papagayo. A grand slam sports bar by day, this Wax's transforms into a bustling Karaoke bar by night. (from 10 pm Tuesday to Saturday). Holidays to Playa Blanca are always an opportunity to try something new – and Karaoke is a sure way to mix things up. Get ready to take center stage amidst the lively ambience created by owner Sue and her wonderful team.
Website : https://wax-sports-bar.business.site/
Facebook: https://www.facebook.com/waxbarplayablanca/
Location: https://goo.gl/maps/LuamF7yk72NUBabR6
Tel: 928 51 94 81
Waikiki Bar Playa Blanca
Located in the Centro Comercial Papagayo, the epicentre of Lanzarote's vibrant nightlife scene, Waikiki Bar is widely considered the best place to party in Playa Blanca.
With top-class DJs performing everything from the latest hits to throwback anthems, Waikiki certainly has something to suit all music tastes. Showcase your moves on the dancefloor or simply embrace the vibrant ambience from the large outdoor terrace. Continue until dawn accompanied by great music, a wonderful cocktail list, shisha, shots, and much more.
Facebook: https://www.facebook.com/WaikikiBarLanzarote/
Location: https://goo.gl/maps/ECup7EFWoWsWSSo5A
Tel: +34 928 94 47 89
Swing Disco Pub
Located in Playa Blanca, the club is known for its lively atmosphere, music, and dancing. They play a variety of music genres, including disco, funk, and pop, and often have live DJ sets and themed nights.
The club serves a variety of drinks, including cocktails and shots, and they often have drink specials and promotions.
Facebook: https://www.facebook.com/people/Swing-Disco-Lanzarote/100027305906781/
Location: https://goo.gl/maps/EBcr5AwEskUuLAVQ6
Tel: +34 686 61 82 22
Enjoy all this and more by booking a Playa Blanca villa rental experience with us today.
Bar Soho – Karoke
A cracking live entertainment bar located in Papagayo centre in Playa Blanca. Bar Zoho is the only full time karoke bar in Playa Blanca with over 72,000 songs in 8 languages this wonderful inclusive family friendly bar is known for its outrageous drag acts, amazing cocktails and just great fun. Owner Brett is on hand to belt out a hit or several all while making sure everyone is welcome and having a good time.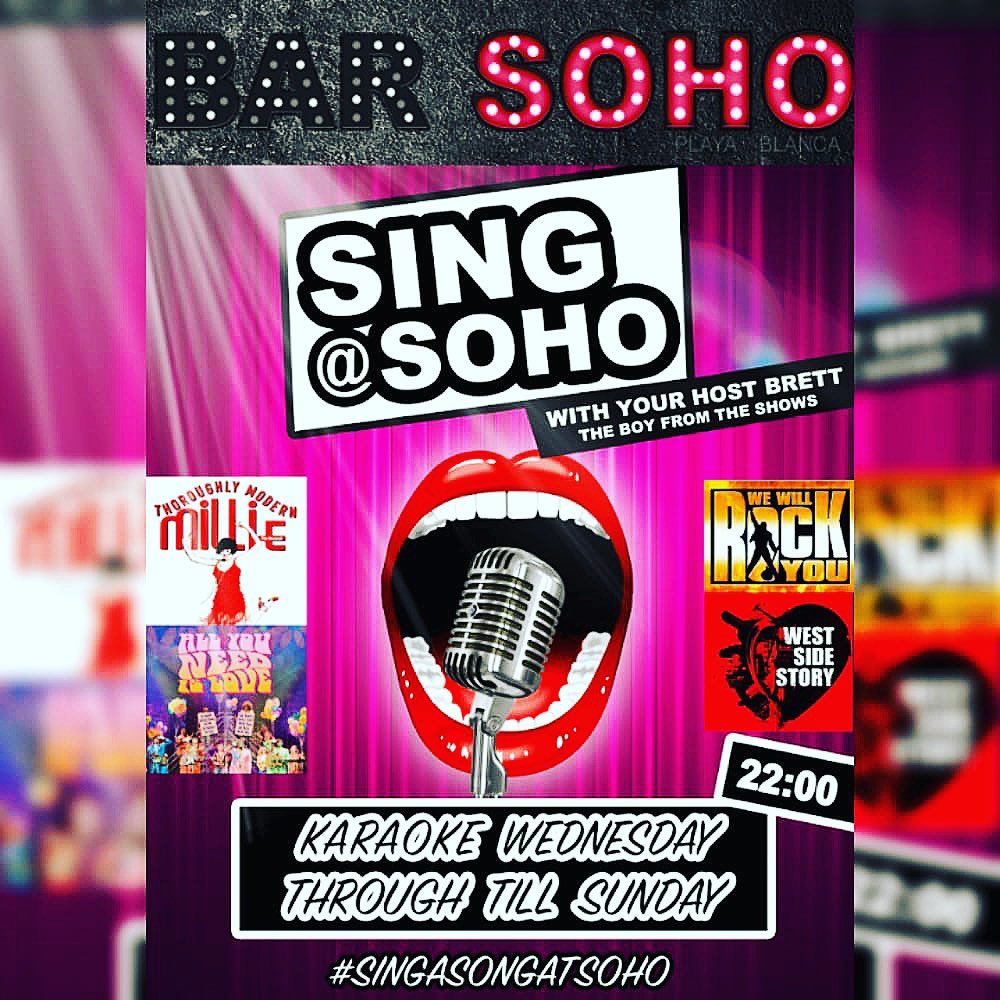 Best Restaurants Playa Blanca
A wide variety of restaurants are available in Playa Blanca, catering to a variety of tastes and budgets. Whether you are looking for Spanish or international restaurants, you will find them all here. 
You can find some great restaurants in Playa Blanca town itself, just a few minutes from our villas. The area is home to a number of restaurants and cafes offering different cuisines.  Among the famous restaurants there are La Cocina de Colacho, Kamezi Deli & Bistro, Cinturna, Indian Delights, and many more. You can learn more about these restaurants and others in our 

best restaurants Playa Blanca.